25 February 2014 | Book Reviews, Book Reviews 2014 | By Christophe Lachnitt
Book Review: "Age Of Context: Mobile, Sensors, Data And The Future Of Privacy" By Robert Scoble And Shel Israel (2013, 248 Pages)
A book that looks into the future… and the authors' ego.
Robert Scoble is a former Microsoftee (he gets extra points for that) and today a technology evangelist and startup liaison officer for Rackspace. Shel Israel is a writer.
Their book looks into the future of contextual computing, those technologies that have an unprecedented understanding of users and their environment, and can therefore give them what they want even before they ask for it.
Google Glass is the most famous of contextual technologies today. But the commoditization of mobile devices, social media, big data, sensors and location-based services promises a bright future for contextual computing.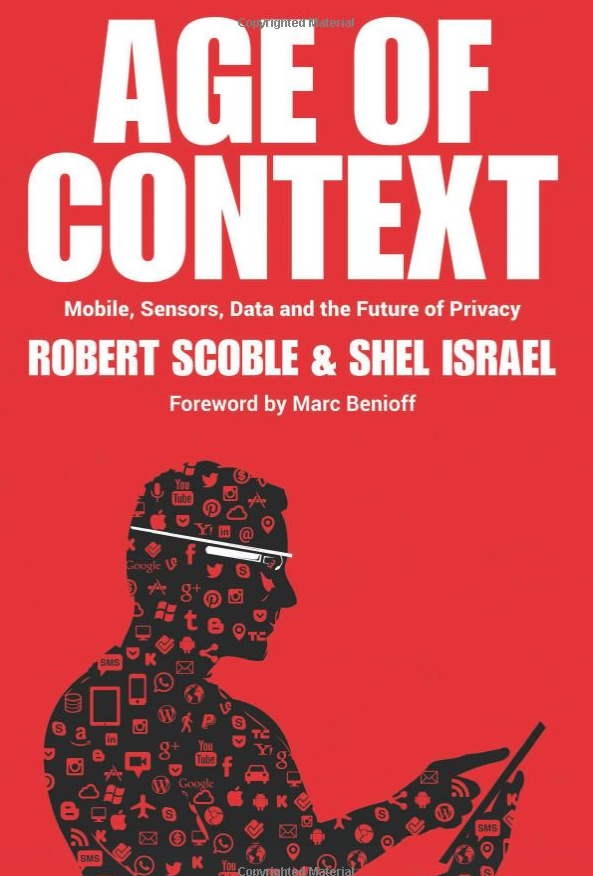 "Age Of Context" is an interesting book.
But two characteristics limit its appeal:
It is colored by the authors' ego (especially Scoble's) which produces third-person sentences such as "Walking Palo Alto's main street with Scoble is like strolling Manhattan's Fifth Avenue with Michael Bloomberg." WOW.
It is financed by corporate sponsors (Rackspace, Easilydo, Betaworks, Autodesk, Bing, and Charity:water) which sometimes blurs the line between editorial and advertorial content.
RATING: C.